If your business shares similar values of sustainable and responsible stewardship, then come join the Hemp movement and utilize Hemp paper for your needs.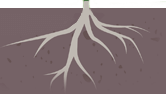 What if we told you Hemp could be your brand's long-term partner? Think of Hemp like a low-maintenance life-partner. It requires minimal fertilizers and herbicides (especially when grown for fiber). A permanent partner that caters to both craft and commercial markets and yet maintaining its dominant qualities. A long-term partner who will adjust to your needs and compromise with your expenses given the rise in its kind.
An abiding partner that believes in sustainability and is comfortable to grow old with. It believes in the power of nature, the power of green!
Love is a feeling that can grow anywhere, just like Hemp plants can (It's called weed for a reason, after all).
If I had to compare that 'partner-person' to good quality hemp, I'd say they're durable, strong, lightweight and anti-bacterial; and acting as bio-composites, can reduce production costs.
Another benefit of Hemp is it can teach you a lesson or four, just like it did above. And if you're up for more, check out our blogs below: